Contact Us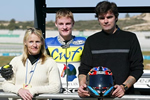 If you would like to know more, then we would welcome an opportunity to let you meet the rider and discuss our plans, aspirations and racing.
We also have an excellent promotional video featuring Chaz in 2002, which could be made available on request.
Further Details:
Peter and Sam Davies
The Barn
Lower Kinsham
Nr Presteigne
Powys
LD8 2HN
Email: chaz@chazdaviesracing.com
All the information included in the website has been compiled and produced by Chaz Davies Racing. We would like to thank the photographers for their kind contribution.