Chaz Checks In... Le Mans
After coming home from the Chinese GP, time seemed to go fast before we were back on a plane and off to France the following Wednesday morning.
During the week at home I did a mini MX race which was very good fun. There is a new track about 6 mile from my house so me and my friend went for a bit of practice on Saturday afternoon ready for a bit of racing on Sunday. It was very cool, a really good track with quite a few big jumps. On the Sunday I got there a bit late and in the first race, I got the hole shot and in 2 laps got maximum arm pump and finished 4th. In the second race I almost hole shot it again but got barged out to 2nd. After about 5 laps I was in a good scrap with another guy for 4th and felt totally out of control because my arms were so pumped up. I started to break away from him but then put the bike in a bit high on one of the berms into the soft dirt and it sunk in and pitched me off. I bent the brake lever and could of quite easily have carried on but decided I better stop it there because I felt so out of control and could feel an injury coming on! The more I ride the better my arm pump gets so I just need to ride more and we'll be right on the case. The front 3 riders will definitely be hard to beat though, the one guy is World Minibike Champ, Stu Hughes from Shrewsbury who designed and built the track and 2 brothers who are equally as fast. I need a bit more practice!
We flew into Tours on Wednesday afternoon which is about 80kms from the circuit. When we got to the circuit Shakey gave me his mountain bike and we both did a few laps of the circuit. On Thursday I did the usual re-looking over last years data just to make sure I go on the track fully prepared. Also in the afternoon I was quite surprised to see Ant West lingering around our pit garage as I was expecting Martin to be fit for this race. I later found out that Martin had had an x-ray in Spain that showed that he had broken bone in the top of his hand which was why Westy was in our pit. Dieter phoned him up on Wednesday afternoon and asked him if he wanted to ride the bike and he checked with the bosses at KTM and they said no problem. His bike is due to be ready at Mugello and he thought it would do him good to get back on a bike.
On Friday morning the weather was very grey but the rain was holding off. I had a look on the internet the night before and it said rain for the whole weekend. 60% chance on Friday, 90% chance on Saturday and again quite a high chance for race day (I cant remember exactly). For the first session everything felt pretty good. The chassis was good for the first session, just a bit soft on the front but good for the start of the weekend which left me feeling confidant for better things. I was 14th in the first session. For the afternoon it was a much different story. About 5 minutes before our first qualifying started, it absolutely hammered it down and I mean hammered it down! Within minutes there was a river flowing down pit lane and the rain wasn't letting off. It was a good 10 minutes before one of the Yamaha riders went out. Everybody was stood in pit lane and listened to him as he came past. Every gear was just spinning and there was zero contact between the tyre and tarmac. On his 2nd lap he again came past spinning up and all of a sudden the spinning noise turned to a scraping noise and I looked at the monitor to see him sliding along. It showed just how wet it was out on track, he was more or less completely upright and it flicked him! Only a few riders were game to go out and looked like they weren't game to go too hard in the conditions. De Angelis was then next down and in the same way as the Yamaha rider, bolt upright and pitched straight over the top! Me and pretty much everyone else stayed in the box as I could see no point in risking it, we weren't going to learn anything and it couldn't possibly be any wetter than this for the following day. With 5 minutes left to go in the session, Westy went out and set the fastest time of the 5 riders that were out on track giving him provisional pole which was quite funny! I think we made the right decision not to go out, nothing could be proven in those conditions and there was a high risk of crashing which wouldn't be worth it.
On Saturday morning the weather was again very grey in the morning and looked like it would be another wet day. When we left the hotel it wasn't raining but the ground was wet from the rain that had fallen over night. The weather stayed fine all throughout the 125 and MotoGP free practice session that went before us so there was a reasonable dry line by the time we went out. The bike again felt good. About midway through the session the circuit was 50% wet and 50% dry making it tricky choosing what tyres. We stayed on wets just to be safe and so did most others. I reeled off about 5 laps getting faster and faster each lap. I went from 15th to 11th to 6th and then to 2nd with just Guintoli ahead. It was now at that point where it was too dry for wets and too wet for full slicks. We waited about 10 minutes, in which time the circuit dried quite a bit, so it was now full slicks and then went back out for the final 10 minutes. On my 2nd flying lap I came out of the left/ right chicane at the end of the back straight and the rear just snapped so quick. I gassed up a bit hard on the side of the tyre where the track was still damp and my heart came up through my mouth! I thought as soon as it snapped that I was surely about to be launched over the top. Then somehow I found myself still just about hanging off the side of the bike but still more or less on it! My exact thought's were 'Shit, I'm still on it!!'. I then heaved myself back on the bike and was riding across the grass. It must of looked spectacular but nobody caught it on camera which was a bit gutting! I felt like Randy Mamola when he highsided off the side of the bike and after about 200 metres managed to clamber back on. It took me a good couple of laps to get over that one and I was a bit more cautious through there the next lap but then got back to my normal self. That's probably the closest I've come to crashing but without actually crashing!
In the last few laps I was again getting faster and faster and finished up 13th on what didn't feel like a very good lap.
For the afternoon the weather was the main topic of conversation. I wasn't too bothered whether it was dry or wet (as long as its not a monsoon) as I felt pretty confident for both. The greyness of the skies held gave us a false reading and the rain held off for a completely dry session. We made a few small tweaks with the chassis and I had no major problems. For the last 5 minutes I put a new rear tyre on and put together an OK lap which was enough for 11th on the grid, my best of the year so far and on the third row which was important. Also 2nd fastest kit rider behind Guintoli(who is at home in Le Mans). After the session I had the usual post session meeting with the mechanics just to discuss the way the bike was feeling and try to find the last few tenths out of the bike and myself. The engine I don't really have any control over as it is the engine mechanics job to take the engine as far as it can go and still be safe but I can relay the chassis problems to my chassis mechanic who then can try many different things with the suspension or chassis geometry. The engine felt OK but I was having a problem changing gear and was having to shift earlier than normal which was unnecessarily taking away my concentration as I was having to think about this problem too much. It seems to be a common problem that we seem to get alot and have not yet found a way around it, which is a bit frustrating.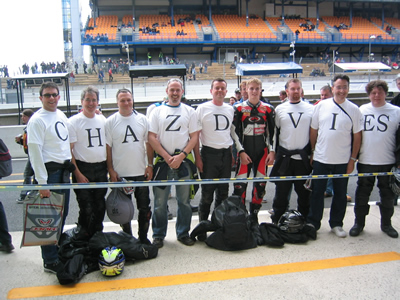 On Sunday morning it was wet but it had stopped raining as we got to the circuit. There was thick fog around the circuit which meant that the warm up sessions were delayed by about 1hr by which time the track had begun to dry. By the time we went out for warm-up, it was getting quite dry and we started the session on full wets which was a mistake. This wouldn't have been such a problem but the wet tyres I was trying were a new, very sticky, softer compound from Dunlop which are really for fully wet conditions. I ran in new pistons for the first 5 laps and could feel that the tyres were already shot as the track was 75% dry but there was no time to change. It was quite funny in a way because I was going up the start/finish straight bolt upright and just having tank slappers because the rubber was so soft and just moving around everywhere. I finished the session in a belting 24th place but wasn't too worried about that!
I was pretty nervous before the race which is pretty normal if I qualify well! My start was very bad and I couldn't really understand why, because everything felt good. I felt on the limit of the bike, just slipping the clutch enough to grip which is usually a near perfect start but I didn't seem to be going anywhere fast. I went from 11th to 16th and then managed to lose 1 more place back to 17th. Within two laps I knew this wasn't going to be my race. I couldn't match anybody on acceleration which was extremely frustrating. After 4 laps I really got my head down and tried to do the best possible. I passed Andrea Ballerini on lap 9 to go 15th and was constantly bridging the gap to Corsi and Baldolini which was a few seconds and then Locatelli was another couple of seconds up the road. For the last 10 laps I got with Corsi and Baldolini but was struggling to keep my rhythm going because I couldn't pass them. I was lacking punch compared to them and couldn't even close on them in the slipstream. This would be normal from a kit bike to a factory bike but from my kit bike to Baldolini's kit there should have been no difference. As a group we passed Locatelli and I tried to make use of the tighter parts of the circuit to pull away from the other riders but it wasn't working, they came right back by on the next straight. The last 5 laps were a big scrap. I was pushing 110% to get in front and get a bit of a gap on the group but it wasn't happening. Baldolini was riding OK but Corsi was again quite slow and messing me up. Fast on the straight, slow in the corners and Locatelli was just the same. At the start of the last lap I was behind Baldolini and Corsi and knew if I wanted to win the group I would have to be sharp on the brakes in the last ½ of the circuit. They pulled away from me on the exit on to the back straight and I thought that was pretty much my race over but I kept pushing. 3 corners from the finish Corsi dived up the inside of Baldolini and they both ran a bit off line and I took advantage. I went up the inside of them both and was then on the outside of Corsi in the left, 2nd to last corner and I knew I could do him on the brakes into the final double right. I waited until he got on the brakes and then as soon as I saw him react I started braking and squeezed up the inside of him hard on the brakes with the front bouncing. I thought I had it nailed but ran slightly wide which meant there was a slight gap for Corsi to come back which he did. I got on the gas very early out of the last corner but couldn't do anything about the factory pace and crossed the line in 12th.
I was happy with the way I rode because I pushed hard and put up a good fight. The chassis and the tyres were good but the engine was a let down and made life much harder than normal. I don't want to moan but it is a fact. The engine is capable of being up there with the fastest of the kit bikes but for some reason it was 'off' in the race. The team were pretty pleased with the result but I wasn't quite as happy.
We have three weeks until Mugello now which I hope we can get everything dialled for. In between now and then I am still yet to buy a road bicycle so I will be getting one of them soon and I'm going to do some more minibike racing as I need to cure my arm pump!

Chaz#57!!!!!!!!!!!!!!!!!!!!!!!!!!!!!