Chaz Checks In... Estoril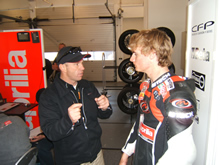 On Monday I travelled with Shakey and his mate "Mid-life" to Portugal. Shane was feeling the effects of the crash but he'd be OK for Portugal. We arrived at the circuit later that evening and me and Shane ran a couple of laps of the track.
Tuesday and Wednesday were spent mainly kicking around. We had a big playstation competition first on MotoGP which me and Casey had the joint fastest time and were a bit quicker than the others. We also put on a rally game which we all had our glory moments at, but spent more time wrapped around trees than anywhere else.
On Thursday I went over my last years telemetry as usual and went through the set-up with the mechanics and did a few laps on the scooter.
On Friday morning it all started pretty well. I was staying just about around the top 10 mark and was more than comfortable at that. With about 20 minutes to go in the session I had a small off in the very tight chicane. I went from the left to the right and slammed the bike pretty hard and the front sort of bounced on the tarmac then tucked. It was a very weird one and there was no damage to the bike apart from a brake lever so I rode it back to the pits and only lost about 5 minutes. At the end of the session I was 16th and pretty confident that we weren't too far away with the chassis even though the engine wasn't very strong.
For the afternoon it didn't go quite as well. After 4 laps I pulled in the box because my engine mechanic wanted to try a new ignition curve. We put the curve in and the bike wouldn't rev at all. I did 2 laps and came back to the pits. My mechanic made a small tweak with the curve and I did 1 lap because it still wouldn't rev. We did the same again and I came straight back to the box. Then, as time was getting short in the session we put the old ignition curve back in and for some strange reason this one would now not run! I came back to the box and we did a complete reset of the ignition and I went back out and the bike was again normal. With less than 10 minutes left I started my first flying lap and midway through this lap my chain came off which doesn't really happen nowadays but it was all happening to me in this session! The whole session was a bit of a waste of time and we lost valuable track time.
For Saturday morning we had a bit more luck. My chassis was feeling pretty good but my engine was still lacking a bit of speed. I had a bit of pumping which we improved with a different rear tyre and I immediately went 0.7 faster and consistently. I finished the session in 16th on a 1.43.4 and for the afternoon was looking at breaking into the '42 second bracket.
In the afternoon I got going pretty quickly and was in the top 15 for most of the session. With about 12 minutes to go I did a 1.43.1 which was good enough for 14th and I was sure with some fresh rubber on the rear I could get into the 42's. I came in the box with 8 minutes to go and put a new rear tyre on which I'd be able to get 2 laps on. My first lap was on course for a mid 43 and wasn't very good so I was hoping to get a good exit from the long, fast right hander onto the main straight to start off a good last lap. Just as I started to roll on the gas a bit harder the rear stepped sideways and before I knew it I was airborne over the bars. It let go very quick and was quite a hard crash in just about the same place as I crashed last year but this time, thank god, it hurt less. I could feel my foot was hurting and when I got up I realised it was my ankle. I also banged my hip as usual and bashed a couple of fingers. I went to the Clinica Mobile and after looking at my ankle they said I had stretched the ligaments on the outside of it, as it was swollen.
I ended up 15th on the grid which I was pretty happy with. It doesn't sound very good to me and probably doesn't sound much good to anybody else but with the quality of the field this year it's about where I expect to be, somewhere in the first 4 rows.
Early Sunday morning I was awake from 1.00am-2.30am with a throbbing ankle. The skies were grey and the ground wet when we left our hotel in the morning. As soon as I got to the circuit I went to the Clinica Mobile to see what I could get to ease the ankle stiffness. They gave me one painkiller and 7 small injections where the swelling was, which almost instantly eased the pain. After the overnight showers warm-up was going to be a wet one. For European TV reasons our race was going to be the first of the day, so we were first warm-up as well. I had to run in new pistons, which doesn't leave much time at the end of the session. I didn't risk anything and was 18th, pretty confidant that it wouldn't be too hard to find a few seconds. Rain or shine I wasn't too bothered what it was going to be for the race.
In the run up to our race nobody knew what the conditions were going to be like. The track was 50/50 wet and dry and it looked like it was going to stay dry. The race was declared dry so we started on full slicks as did everybody else.
My start was ok but I got stuck behind Jorge Lorenzo and Simone Corsi for the first 5 laps. Corsi's bike was ridiculously fast in a straight line but he was very slow and cautious on the wet patches. I passed him for 3 laps in succession but he came straight back by me on the main straight. The final time I passed him I pushed hard in the tight bits to try and get away from him and not give him a chance to come back at me on the main straight. My teammate followed. By this time I had well and truly lost touch with the next group of Barbera, Smrz, Giansanti and Debon. My race had been stuffed in the first 5 laps. At half race distance I was in 15th and getting faster but there was no way I was going to catch anybody. My teammate was more or less still hanging on to me, which I was quite surprised at. His manager had said he is a much better racer than a qualifier and I have to agree. Most people in the race were about 2 seconds off their best lap in qualifying. The front guys were doing mid 43's where in qualifying they were in the 41's and I was doing 45's where in qualifying I was doing 43's. This was due to the track being damp in a few places. My teammate did a 1.45.5 in qualifying and in the race did a 1.45.9, only 0.4 off and with worse conditions. Quite strange. From about lap 16 I had started to drop my teammate and by lap 20 he was a couple of seconds behind. On the entry to the chicane I clipped a small wet patch that had been there all race whilst I was on the brakes. Straight away the front tucked and I was down. The bike was hardly damaged and the only reason I could not continue was because I had broken the clutch lever.
So, it was a disappointing race. At best I could have got 15th but really should have been higher had it not been for a bad opening laps. There are 14 more races and I'm looking for some improvements. The next race is in Shanghai on May 1st. Its gonna be a new track for everyone so it should be pretty interesting. It's supposed to be one of the most advanced tracks and best in the world. I only have a week at home now before we fly to Dubai and then onto China. I need to give my ankle a rest for a couple of days and will do a bit of mountain biking later in the week.
Chaz#57!!!!!!!!