Chaz Checks In... Phillip Island
After the Qatari GP it was time for a 10 day break before the next leg of the fly away races in Phillip Island and then Turkey. During the 10 days we had off I decided a couple of months ago that there was no point in coming home for a few days then all the way back out to Australia so I flew from Qatar to Brisbane and met some friends that I know there. It's the first time that I've been to the Gold Coast and you can see why a lot people move there. The weather was spot on and there is so much to do. My original plan was to fly to Brisbane, buy a old car for a few hundred quid and then drive down to Phillip Island, I would have made sense to rent a car but to do that you have to be at least 21 years old. I was going to do a bit of sightseeing and spent a couple of days in Brisbane, then Sydney and then just have a steady cruise down to the Island but I was enjoying t a bit too much up at the Gold Coast so I stayed there.
When I went to the Tour De France in July I met a couple of Aussie guys who were seriously entertaining for the week in France and I met up with them where they live just North of Brisbane on the Sunshine Coast. After coming from Malaysia and Qatar with it feeling so hot there you tend to feel a bit invincible when you go anywhere cooler and I got caught out because the sun is a lot stronger in Australia than anywhere else. I went on the beach at the Sunshine coast and fell asleep for about 40 minutes and got pretty sun burnt. The funny thing was I had my ipod on and I had a really obvious line down my neck where my earphones had been! I spent a couple of days on the Sunshine Coast and then went back down to the Gold Coast for another day or so where my friend and I went to wet and wild water park which was a good laugh. I could have done with a bit more time there because there is so much more to do. I then flew to Melbourne where I stayed for 2 more days before going on down to Phillip Island. The difference in temperature between the Gold Coast and Melbourne is huge, and then Phillip Island is cooler again. It was a bit of a shock after being in hot weather for the previous few weeks. I stayed with a friend in Melbourne where I did a bit more sight seeing and then I met up with another friend, Will, who was in my year at High School. Will was over travelling around Australia and Asia for about 6 months and he planned it so he would be in Melbourne at the time of the GP and then he could come down to watch it.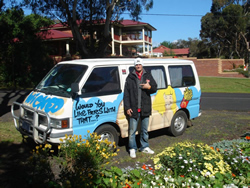 On the Tuesday before the Phillip Island weekend I found out about a company who rent out campers for backpackers travelling in Australia and as long as you had a drivers licence for 6 months you could rent one of these so that's what I did. I went into Melbourne and picked up 'The Beast' as we named it. It was a Ford van which turned left much easier than right and had 375,000kms on the clock! The rental place name is Wicked Campers and each one of their vans has a theme to it. This one was called 'Supersize Me' because it had a McDonalds theme to it and Will and I were getting some serious looks and laughs on the 2 hour drive down to Phillip Island, it was very funny. Within 3 hours of renting it I managed to get a $50 parking fine where I forgot to buy a ticket! I did think about not paying the fine but they'd probably trace it back to the rent a car company and not let me in the country when I want to come back!
When we arrived at the Island I showed Will some of the sights around on Wednesday where we went to the Seal Rocks where all the seals sit, and we generally just cruised around the Island seriously abusing the van and trying to look as cool as possible in it but it wasn't really happening! On Thursday I went to the circuit, looked over my last years data where I had a very successful race. I walked the track with Will and then we went to the driving range when I had finished everything at the circuit. I have hardly ever played golf so I was doing good if I even hit the ball! I caught It decent-ish twice and got about 150yards, maybe a little more. But average about 10! Then we went to crazy golf and I was equally as bad. Will got 12 over par and I had another 10 shots with 22 over par! Just call me Tiger!!!!! ...maybe not!
When we left the crazy golf Will didn't put his seatbelt on and had his feel sprawled out all over the dash in 'The Beast' and within 200 metres I could see red and blue flashing lights in my mirror! I started to pull over and Will was wondering what I was doing, I said we've got a bit of a problem! Will started to pull his belt on and I said he shouldn't bother, that's why we're being stopped! Anyway, we acquired our second fine in 2 days. A no seat belt fine for Will. I thought as the responsible driver I would have also had a fine but no, Will got a $141 fine! Poor lad as well, it was his Birthday! After that we decided to get off the road and go and abuse the van in an empty car park right on the edge of the island by the beach. I've got some good footage of the beast drifting and a'squeelin' on the hand brake! At the rental place in Melbourne I payed an extra $100 which reduced the excess from $1000 to $200. I said we should have wrote it off straight away and had to pay $9 more with the fines that we had already got!
On Friday morning I was looking forward to getting out on track. Phillip Island is definitely one of the best circuits we go to and is quite different to any other, and I normally go ok there so that makes you enjoy it even more! The morning session started well, I was, in comparison to everybody else doing good times until we found the limit of where the chassis was at and we had to start changing things. There was one place on the circuit, the 120mph first corner where I don't think anyone goes 100% until it really counts in second qualifying and it's really time to stick your neck out. The morning session was extremely windy and very unpredictable into the first corner, It only takes a slightly stronger gust of wind from the inside to lose the front there. It's good to know that I always have a bit in reserve there until it comes to final qualifying and when your in that do or die mindset of being on the limit everywhere. For three quarters of the morning session I was inside the top 12 but came to that point where to go faster the chassis needed adjusting to help chattering problems. At the end of the session we didn't manage to find any big improvements to help the chattering and I ended up 17th with a 1.37.9.
For the afternoon we made a few extra tweaks with the chassis to try and help the chattering. I was only getting it in 3 places, all the medium speed left handers, turn 2, 5 and over the top at Lucchi Heights but that was enough. There were no immediate differences and it seemed like there was going to be no easy way around it just making slight chassis changes. At the end of the session we started to find some direction with the chassis but not enough. For the last 15 minutes I came in for a new rear tyre, and made a slight suspension change. When I went back out I was struggling to change gear as the quick shifter was not working properly so I had to change gear with the normal back off the throttle, road bike style. This was costing me quite bit of time because it upsets the bike and at Phillip Island it's important that the bike is stable. I did my fastest lap on the last, 1.36.7, but it was no where near enough but I stayed optimistic because I knew the shifter problem was costing me at least ½ second. Overnight we thought about the chassis, and how to get more from it. Last year more or less from the start of the weekend the chassis was stable and we had a good balance for the different types of corners on the circuit. I remember we had a bit of chattering on Friday but we managed to get rid of it and had no further problems and it was a sweet weekend. It shows how temperamental these bikes can be and the chassis I was on last year was a 98' and you would think well out of date but it seemed to work well at some places.
On Saturday it was a perfect Phillip Island day, quite fresh in the morning but blue skies and for a nice change, not much wind. In the morning session we made some small improvements, nothing major but improvements and started to get a balance and compromise between the fast and slow corners. We had managed to get rid of a bit of chattering which made the bike slightly worse in the tight corners but overall it was better. I did a 1.36.3, and did a few low 36's on an older rear tyre. The problem was for the afternoon if I wanted to qualify any good then I had to do at least a low 1.35 which I could see happening unless which stumbled across something really good.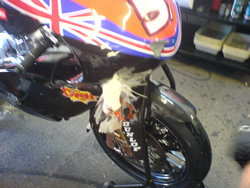 In between the morning and the afternoon session I normally try to have a power nap, not that I'm tired but I think it's more nerves that make me feel tired! I lay down underneath our table in the office buildings that we have and fell asleep just as the MotoGP session was starting. Then the next thing I knew, 13 minutes before I was supposed to be on track my team boss Dieter was shaking me trying to wake me up! I was in a hell of a deep sleep! I reckon I set a new record for getting my leathers and all my gear on anyway! I got on the bike, still feeling half asleep but I was one of the first out of the pits and on the track. On my out lap I came around the second corner, and rode straight through a pack of about 20 seagulls! They were flying left and then at the last moment turned and flew straight back towards me and I hit the one proper job and it really smacked into the front of the fairing! I stood up on the pegs to look over the front of the bike and saw that it had cracked the front of my fairing, there was blood on it and then I could see a load of feathers coming out of the air intake which is on the front of the Aprilia's. It was only when I stopped at the end of that lap I realised what a mess it was. The bird had hit the front of my fairing and then got properly wedged into the air intake. The carburettors had blood on them and the airbox was lined with birds remains! It was truly disgusting but we had to get it changed quick to get back out. It was funny because only in the morning I was saying how I'd some come so close to seagulls a few times but never actually hit one and then that happened!
I lost about 5-10 minutes due to that but then got back out and got on with it. The bike was again slightly better. I went faster during my first series of laps and then in my final turn with fresh tyres I did a 1.35.7 which was enough for 15th at the time but then got pushed back down to 17th at the end of the session. I was still not comfortable with the bike but felt it was the best it had been so far all weekend so we decided we would race with it like that. I was reasonably confidant for the race because I knew that the qualifying 1 lap specialists would not last all 25 laps in the race.
On Saturday night we had a bit of a drama with The Beast! When I pulled up in the circuit car park in the morning it is on grass and I could feel it was soft and said we're gonna be lucky if we get out of here tonight. Right enough, when we got back to 'The Beast' and tried to reverse out of where I was parked it just spun! We tried all sorts, wood under the wheels, going forward/reversing, pushing it but she wasn't having it. Dieter was getting a lift home with me that night, I think he regretted asking! In the end we had to go and find some circuit marshals who had a 4x4 car with a bit of tow rope to drag us out. First the guy connected the rope to the spare wheel hold and ripped the metal cage that was holding the wheel in and out dropped the wheel! Will couldn't contain himself, he was in stitches! So we threw the wheel in the van and bungee tied up the metal cage so it wasn't dragging along the road. Then he attached the rope to part of the chassis and we were in business and on hard ground! The van was proving nothing but trouble but highly amusing and good entertainment value!
Morning warm up was steady as normal. After running in pistons I did a few laps to get a feel for the bike with a full tank and it seemed ok.
My start in the race was another good one but the first lap was not as good as the previous races. I was on the outside for the second corner and got pushed out wide and lost a couple of places. In the first few laps I had to pass Jenkner, Smrz and Ballerini and then caught up Corsi who took half a lap to pass but then by this point Guintoli, Debon and Sekiguchi were 400metres ahead. I pressed on hard as soon as I caught and passed Corsi so he didn't have a chance to come back at me down the straight because he is a real pain to pass so you have to make the most of the opportunity when it comes. I made use of the tight part of the circuit to get away from him so I had a decent gap for when it came to the straight. Each lap my I could see the gap on my pit board going up to Corsi and co behind me from 0.5 to 4 seconds. At one point I did start to come back on the Guintoli group in front but without being with them and in their slip stream it was hard work making up time so they had a couple of tenths on me per lap in the end. I was 12th up until the last lap and then got bumped up to 11th when Sekiguchi retired. All in all is wasn't a bad race. The chassis was a battle all weekend and I got 5 points in the end so I was reasonably happy. Of course last year was much better but even if I'd have done the same race time as last year in the race this year it would have still been 11th! That just shows the level of the 250 this year, 6th last year is 11th this year!
On Sunday night there was a party in one of the bars on the Island and Aoyama came up to me and said he was right behind me when I hit the seagull. He said it was unbelievable from behind, big mess!
Chaz#57!!!!!!!