Chaz Checks In... Assen
After the Spanish GP in Barcelona I got home on the Monday evening which gave us just about a week before we were back on a plane again and off to Assen. I was pretty knackered on the Tuesday and Wednesday after being away for over two weeks so I didn't really get a great deal done but then on the Thursday got some miles in on my road bicycle ready for the 'Shropshire Highland Challenge' event that was coming on the Sunday. I was treating it like it was the Tour De France! My sister asked me if I wanted a piece of her boyfriends Birthday cake on the Thursday and my reply was, "Would you see Lance tucking in to a bit of cake 3 days before the Tour?!". "I think not!!".
On Saturday I went shopping into my local city, Hereford, just to buy some energy powder and energy bars etc in preparation. The event isn't actually a race but named as a challenge but there were some boys there taking it quite serious and full army's of cycling clubs from all around the Midlands. In Barcelona I invited Sylvain Guintoli along as he does quite a bit of cycling and lives with his girlfriend in Leicester so he took up the challenge and travelled down to us early on Sunday morning. We left home to where the event started, got signed in, stretched and then set off later than most people so we had people to catch and pass. The event was 71.5 mile and also with some big climbs in it so we were going to have to pace ourselves a bit, or at least that was the plan. Not even after 5miles we had passed quite a few riders on the along the skinny country lanes but then one person came by us. That was it, Sylvain put the hammer down and we stuck on this guy's tail, flat out and still 65 mile to go! He started to fade after a few miles and then we slowed up a bit and he told us that he was just going flat out because had a puncture early on and was just catching up to his mates.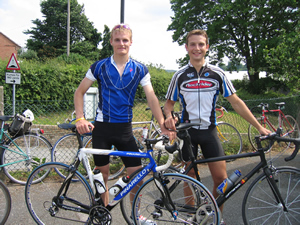 After 28 mile we were at the first Check Point where we met my mum, dad, sister and Caroline, Sylvain's girlfriend where they brought us some fresh water and then we were on our way again. Now the climbing started. Some real beauties of hills that were letting the heart and legs know that they were working! Also typically we picked the hottest day of the year so far, at a nice 31°c! After about 35 miles we had one of the hardest climbs, it wasn't mega steep but it was very long and boy was I feeling it! Sweat was going into my left eye and stinging like hell but I couldn't rub it as it would make it worse so I decided I should just keep my eye closed until I got to the top of the climb but then it started going in my right eye and I couldn't see shit! I was blinking to try and flush them out but I had to stop and wipe them until I got a bit of vision back. The last 15 miles were very hard. For a start the longest I have ever cycled is about 50 miles at a time which is no problem but 71 miles and in the hills was a bit of a problem. I started to cramp up and again had to stop for 5 minutes and stretch out. Sylvain was doing good, he was very strong on the climbs as he has been cycling for quite a few years. Any way, we finished it and caught and passed a lot of the other riders by the time we got back to the finish. After that we went home and had a big barbeque which was nice.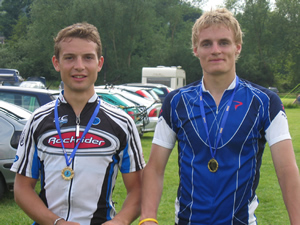 On Monday I did 25 miles to loosen off and then got packed up ready to leave for Assen on Tuesday, one day earlier than normal because of the Saturday race. The flight is only 1 hour long to Amsterdam and from there we went straight to the hotel, 2 hours drive from the airport and 20 minutes from the circuit. On Wednesday, Casey and I did a couple of laps on the scooters to go and suss out the new modifications to the circuit and just have a mess around. The changes to the circuit looked OK but there was nothing wrong with the original Assen. Casey and I then did a bit of motocross on the circuit infield with the scooters which were getting slower and slower and starting to smell after a severe thrashing so we thought we better call it at that, we have to entertain ourselves somehow!
On Thursday morning the session started in not really a particularly good way. I ran in new pistons for 4 laps and even just taking it pretty steady the bike was chattering its brains out and tank-slapping like crazy. I presumed I must have got a dodgy front tyre which can sometimes happen but not very often. I pulled in the box and we changed the front tyre and made a couple of small tweaks on the front suspension. I went back out and it felt better but still very light on the front and giving a weird feeing. I was riding around thinking, "well this feels pretty crap" but we weren't a million miles away times wise and knew that when we could iron out the chattering we could be fast. I was 16th at the end of the session with a 2.09.3.
In the afternoon on my very first lap I almost lost the front in the tight left hairpin onto the back straight. Then 3 corners later the same sort of thing happened and the bike was just chattering like hell but only in the left corners. I thought surely I couldn't have 2 dodgy tyres in one day. I did one more lap just to make sure of what exactly was going on and again in the tight left I was pretty much cruising around and losing the front so I picked the bike up and ran off. I wobbled around the rest of the lap and then when I got back to the box told the mechanics that there is something seriously wrong with the front of the bike. After a bit of examining and pushing down on the forks it was pretty clear what the problem was. It seemed like the rebound damping on my right fork leg was non-existent. Rebound damping is an adjustable bit on the forks which determines how fast, once compressed, the forks come back to there normal position. The more rebound added the slower the fork returns and the more rebound taken off the faster the forks return. It was as if I had no rebound at all so the front of the bike was just bouncing! No wonder it all felt a bit light! We missed a easily 20 minutes of the session by the time we had got the forks out and put my old forks in from two years ago which we didn't really have much of a clue what settings were inside them but we had to go with it.
I got a few laps in at the end and did a 2.08.7 which was good enough for 15th. After the session we found out exactly why the forks were behaving the way they were. On Wednesday my chassis mechanic took them to be serviced at Öhlins which is done every few races. The factory Öhlins forks for the 250cc have some different cylinders on the front, and to be honest I don't really know what else is different with them but they take different shims inside to what my forks do. When they were serviced at the Öhlins truck the factory shims were put in by mistake which then explained all of our problems. Öhlins apologized for the mistake and I was quite excited after because I did a half decent time on forks that haven't been touched for 2 years and knew that it could be much better with the right shims in my good forks. Also I have to apologize to Dunlop for blaming their tyre in the morning!
On Friday morning my normal front suspension was back in the bike and running in new pistons was a real pleasure as is was such a smooth ride compared to the day before! The session also went pretty smooth, I was getting a little chatter which we improved and the whole bike felt pretty good. I did quite a few laps on the tyre that we were pretty sure was going to be our 'race tyre' and it felt really good. I did a 2.07.9 and was 11th feeling confidant for a third row start for the afternoon.
Things went just as well in the afternoon as they did in the morning. I started on an old rear tyre and did quite a few laps just to get a feel for what it would be like in the race. With this I went faster than the day before and pushed myself up to 13th with 15minutes to go. When I put a new rear tyre in I did a few mid 2.07's and every lap had a bit of traffic. On my final lap I did a 2.07.3. I was pretty happy with the lap but mis-judged the timing a bit because it was to late for me to come in for another new rear tyre for the last push so a high 2.06 should have been possible. Even so, I was where I wanted to be, on the 3rd row, ahead of a couple of factory bikes and just behind Smrz who had been strong all weekend. I was also more consistent than those around me and did 5 laps in the 2.07's where most others only did 2 so I was feeling good for the race.
The weather predictions all weekend were very hot for the qualifying days and then rain for Saturday which couldn't have been more true. It was absolutely roasting on Thursday and Friday, completely abnormal for Assen which is usually pretty cold but then Saturday morning it turned. I was woke up in the hotel at 4, 5 and 6am by huge thunderstorms and lightning. It was still raining hard when I got to the circuit at 8am and expected it to continue for the whole day.
Our warm up was wet, I was running in the engine and it was running a bit cold so was coughing and spluttering a bit but the chassis felt good in the conditions which was the most important thing. The rain stopped in our session so the track started to dry when the 125's and MotoGP went out. As we were the first race of the day we were the first to see how the track was and it was fully dry.
I was pretty nervous before the race, the better I qualify the more nervous I get so I usually try to have a power nap and listen to music in the back of the team truck which eases the nerves. Before I have a nap I also go through the first lap of the race in my head, going through possible scenarios and just getting myself prepared and after I feel a bit calmer. My mum also tells me I was looking a pale in the morning!
My start wasn't very good. I didn't lose a great deal, just one place to Ballerini which I soon gained back but it wasn't a good start at all. I only had factory bikes in front of me and Takahashi was holding me up a lot. The Honda was good on the brakes but he could run no corner speed so he was extremely difficult to pass. Also he had good punch off the turns with the factory Honda and I couldn't get close enough at the end of the straight to outbrake him. Debon passed me after about 5 laps and it was pretty much the same deal with him but he was a little bit faster than Takahashi. Very good on the brakes, using the Honda's stability but no corner speed so if I wanted to pass then I had to be very brave and go deep. I followed Debon for a lap and then passed him back but hit him slightly because I had to take a few risks to pass him. The group was quite big with me, Guintoli, Debon, Takahashi, Smrz, Locatelli and Ballerini for some part of the race, it was a big fight all of the race but the pace wasn't very fast and the annoying thing was I felt faster than everybody in the group apart from Guintoli who me and him were quite similar. With 4 laps to go I managed to get to the front for the first proper time and tried to do my own thing. I did a 2.08.3 which was my fastest lap of the race and then the next lap Locatelli decided to use the full potential of his bike and past me which broke my rhythm a bit and allowed Debon&co to be right back on me. Guintoli past me at the end of the lap and at the start of the last lap I was on the back of him. In the 6th corner I made a small mistake which allowed Debon to pull along side me and pass me on the exit. I couldn't pass either of them before the finish and ended up pretty disappointed with 14th. I felt I was stronger than all who I was riding with but didn't get the break and got 'duffed' up a bit every time I got ahead in the group. I was kicking myself after the race and still am but I think I'll learn from it and next time it happens hopefully be able to get away.
Now I've got just about a month break to my home GP at Donington which I am very excited about. For the rest of the season I still have what I class as all of my 'strong' tracks to come with Donington being one of them so lookout! In the next few weeks I will continue clocking up the miles on my bicycle and also am going to go and watch the Tour De France when that starts early next month. Next weekend me and a few mates are going to watch The 'Kings Of Leon' in concert for the third time which is always good.
Hopefully you'll all be at Donington which I hope to put on a good show for. See you there.
Chaz#57!!!!!!