Chaz Checks In... Preseason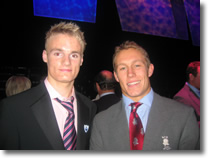 Throughout the winter it was pretty quiet and easy going. I spent my time training most days, helping at my dads go-kart circuit and more recently I sold my old motocross bike for a 450 Yamaha MX bike which I really enjoy riding. I also have some supermoto wheels for using on my dads kart track which is awesome fun. For the first time early in the winter I went to a concert and now I am hooked. I was offered the chance to go and see Linkin Park and Lost Prophets and having never been to a concert before I had to experience it. I went with two friends and at first it was quite intimidating seeing people much taller than me bouncing and pushing around but after about ½ an hour me and my mates got well stuck in!!
In early December I made the final 10 shortlist for the BBC Young Sports Personality Award which was quite a surprise. The only problem was that, if I made the final 3, then it would clash with a concert I had booked to go and see, The Kings Of Leon. I thought I would be pretty safe as the chances of a motorcyclist being short listed to the final 3 would be pretty slim but a couple of days later we got a phone call to say I'd made the final 3 and would I be able to make it on the awards night? So the concert tickets went straight on Ebay and me, my mum and sister went to the awards. There were sports stars from all decades every where you looked and it was a really good night. Nominations for the Young Sports Personality Award were a female runner and swimmer & me. In the end the swimmer won it but I was happy enough just being there seeing people who you've watched on TV for years. Neil Hodgson was also up for the main award so it shows that motorcycling in the UK is now getting recognised more and more.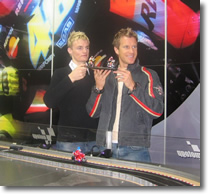 From the back of the BBC Awards I was invited to join Hodgson in the launch of the new MotoGP Scalextric toy at the London Toy Fair. It's the first time that something like this with 2 wheels instead of 4 has been made and it was quite surprising that it hasn't been done before. The set that me and Neil played on was a prototype set and it was really good. The bikes were really detailed replicas of MotoGP Honda, Ducati and Aprilia and in a way it is realistic because you cannot run the corner speed like the Scalextric F1 cars can but in a straight line the bikes are really quick and on corner exits you have to be careful not to gas it up a bit hard and spin the rear wheel or you risk a high side!
Since my birthday on February 10th I have been taking driving lessons. I passed my theory test on Feb 12th and had the chance to do the practical test a few days later so I thought I might as well go for it and if I passed then great but if I didn't then not to worry as I hadn't been driving for long. My instructor seemed to think that I was ready to do the test but unfortunately on the day of the test because of the driving test centre strikes that were going on I had a miserable temporary stand in examiner who my instructor had never seen before. Typical, I picked the day where the examiner had got out of bed the wrong side. He failed me on sitting wide on blind left hand bends on a country road but I had been taught to sit wide to get a better view of the road ahead, so I was a bit annoyed but I've got the re-run booked for early April and I'm praying I don't get the same examiner!
With all these sorts of things going on over winter, I have kept myself pretty occupied right up until my first test in Portugal at the end of last week. I am very pleased that once again I will be sponsored by KF Concept. They have sponsored me since Donington last year and the sponsorship money from them goes to my team and without this money it would be extremely hard for me to be in Grand Prix's.
Testing Portugal
After a long winter it was good to get back to a race track, see the team and get back on a bike again. The last time I rode was at the last GP of '03 in Valencia and since the new year I've been itching to get back on the bike. We arrived at the circuit on Thursday and it was good to see the team and sniff 2-stroke fumes after nearly 4 months off. I met my new team mate Johan Stigefelt who I knew a little from last year and he is really easy to get on with and has plenty of Grand Prix experience. There are also 2 new mechanics in the team, one for my bike and one for Stiggy's. My mechanic worked for Alex Hoffman at Kawasaki last year and the other mechanic is new to Grand Prix's. Klaus Nohles is again the teams telemetrist as unfortunately he couldn't find the budget to ride this year.
As always with Portugal the weather couldn't decide whether it wanted to rain or shine. As it was the teams first test nobody was in any rush to get out on a wet track. So by mid-day the track had dried and I went out spending the first 6 laps running in a new engine and trying to re-familiarise myself with my bike again. It's only when you haven't been on the bike for so long you realise how sharp and nimble the 250's are. I was finding myself turning in way to early at first and because I've been riding a lot of motocross lately it felt like the narrow Aprilia bars needed replacing with a set of MX bars!!
After running in, the mechanics checked that all was ok with the bike for 10 minutes and that gave me a chance to think things over. Immediately when I went out for the next stint I felt like I hadn't been off the bike all winter and I quickly got back into the groove of things. By mid afternoon my times were coming down and down. We made a couple of changes to make the front feel less on the edge and less risky, and also had to change a cracked sparkplug that was stopping the engine revving.
By the end of the first day I felt really comfortable following Poggiali and Nieto but was just losing out slightly on rear grip and acceleration. My fastest lap was 0.9 off Poggiali, 0.7 off De Angelis, 0.2 off Nieto and 0.9 faster than West. For the first days testing I had nothing to complain about as all the other riders had tested prior to this one and the riders faster than me were all on factory bikes.
Again for the second day the weather was wet in the morning but drying by the afternoon. I ran in new pistons on a damp patchy track and just after running in the red flags came out because Johan had high sided on a white line. He bashed his ankle hard but should be fit for the next test. We waited then for the circuit to dry as the mechanics decided its not worth risking anything at the first test. When I went back out I had a problem with the engine not revving and after 30 minutes of chasing the problem we found the fuel pump was not working properly. In the afternoon we were testing a few different things on the bike and then I went out on track at the same time as Poggiali so I latched on to the back of him. I found I was a little bit faster on corner entry, we ran very similar mid corner speed but he could pull on the exits where my bike was feeling a bit loose, but you could be quite sure that he would have had a new rear tyre on. On my second lap of chasing I came off the back straight towards the long left at the back of the pits and I could feel the engine was really on song so I broke a little bit earlier than normal but still too late and the rear snapped sideways on the braking bumps, unsettled the front and the front folded just as I peeled in towards the apex. The bike wasn't too badly damaged and I was OK apart from burning numb hands.
I didn't manage to get a decent time in on the second day because of the damp, then the engine problems and I crashed when the track was at its best and then the rain came down hard just after I crashed so we decided to call it a day. Nobody wants to crash but it sometimes a good thing to get the first one of the year out of the way. For a bit of consolation Klaus told me I was up on my time from the day before up until the point I crashed. All in all it was a pretty enthusiastic start to the season for me and the team so hopefully If I can keep mixing it with the factory boys on a regular basis we should be in for a good season. I'm going to have to have to put the pen down now because I'm crammed like a chicken in a hire car full of used Dunlop's for a bit of supermoto when I get home. I look forward to my next test next week in Valencia.
Cheers
Chaz #57