Chaz Checks In... Phakisa Freeway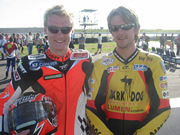 After the final pre-season tests of the year it was all about getting prepared for the first race. After the testing had finished I went home and Casey Stoner and his dad stayed with us for the 12 days before the first GP. Casey and I had plenty of fun, training and playing on Supermoto's, Karts and Mountain Bikes!
On the Thursday, just over a week before we left for South Africa I had my second driving test. After failing the first time I was pretty happy to hear that the miserable examiner, who I had that day, hadn't been seen since. My second test went fairly smoothly and my examiner was one of the rare friendly types. As I drove back to the test centre just before he gives the results my heart was past the rev limiter! I was pretty happy to hear the words 'Congratulations Mr Davies you have passed' and I am now looking forward to having a bit of freedom and relying on myself to go places rather than my parents. Also there is more good news, the company Scalextric will now be sponsoring me in 2004. They are getting involved with two wheel motorsport as they are making a Scalextric MotoGP set which will be available for sale very soon. Neil Hodgson and I attended a London toy fair in January and we were testing the MotoGP prototype game. It is really good fun and I can't believe they haven't made one sooner! I am really happy that Scalextric have come "on board" as it is great to see a well known BRITISH company getting involved in motorcycling and more importantly showing faith in me!
We left for South Africa on the Tuesday afternoon before the race weekend. We travelled with Casey and his dad to Heathrow then to Frankfurt and then on to Johannesburg. The flight from Frankfurt to Jo'burg was about 10½ hours. We flew through the night so we managed to get some half decent sleep. We arrived in South Africa at 7.00am UK time and 8.00am their time. South Africa is quite good because it is more or less straight down so jet-lag doesn't take much effect. Me and Dad hung around at Jo'burg airport for two hours waiting for my team mate Johan and his girlfriend to come from Madrid. When they arrived we picked up the hire car, crammed all the luggage in and drove two hours south-west to Welkom. The weather was about perfect as it always is when we go there. Normally clear skies with about 26-30°c, but bearing in mind it is their late autumn, almost early winter! After not seeing the sun for a good 3-4 months I had to be a bit careful and try not to get burnt because it doesn't go down too well with leathers on!
We had an easy day Wednesday and went to the circuit on Thursday to get all my gear out the flight cases and also get organised. I had a chat with my chassis man to find out where we were now at with the settings because at the last two IRTA tests we had no good settings at all. He told me that the chassis was pretty much back to how we had it in the Valencia test where I was happy with how the bike was handling.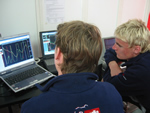 On Friday morning I ran in new pistons for the first 6 laps and got used to the track and the bumps again! As usual, due to the sand that blows onto the circuit, the first session is always quite slippery. The bike felt not too far away from where I wanted it to be which is always a good sign at the start of the weekend. My only problem was that the bike felt a little bit 'mushy' in the corners and wanted to go wide. After the session I told my chassis man I wanted to try the hard front and rear compound tyres, rather than the mediums. The theory was, that the stiffer construction tyre would get rid of the soft feeling and then work well for keeping tight lines and give good stability on the brakes.
I was pretty confident after the first practice session because we had used the same set of tyres all the way through the practice and the bike felt good. For the afternoon the only change we made was using the harder tyres rather than the mediums. The track temperature had also climbed considerably so the harder tyres would now work better. I went faster than I went in the morning quite soon on in the session and was immediately comfortable with the harder tyres. As I got faster we ran into small problems. In the bumpy corners I had slight chattering problems which were quickly cured and I was getting more and more comfortable with the chassis. I finished the session in 13th and had still not put in a lap that I was really happy with.
There were a few murmurs on Friday night of rain for Saturday which I found quite hard to believe because the weather had been good up until then and the forecast looked pretty good. Plus, in South Africa when it rains it doesn't mess around, it pours. We woke up Saturday to nice blue skies but a cold morning compared to the previous ones. Over night the only change made was that I had new pistons to run in for 6 laps and the mechanics put a slightly harder spring in one side of the fork legs to stop it bottoming out. I had a good session in the morning free practice, the spring change didn't alter the feel of the bike at all which was good because the change was only meant to make it a bit safer. I finished the session in 10th on a 1.37.4 about 0.8 faster than I did in first qualifying, and only 0.2 off 5th in that session. Also, I managed to put together my four best intermediate times into this one lap which gets me the prize of a 'Senna' t-shirt. The reason behind this is that when my team manager, Dieter Stappert, used to work in Formula one, Ayrton Senna was the only driver who could put all his best sectors into one lap, week-in week-out. So every time I do this throughout the year , I earn myself another 'Senna' t-shirt from Dieters collection.
For the afternoon I was pretty confident I could get into the 1.36's. The bike was handling very well apart from a little chattering on the ripples. Also, the engine had been on top form all weekend so I didn't have anything to complain about there. By the time the 45 minute final qualifying session arrived the temperature had risen quite a lot from the morning and I again used the hard tyres. I managed to equal my 1.37.4 from the morning within the first 20 minutes and with 13 minutes remaining I did a 1.37.1 which put me up into 6th place. Then with 6 minutes to go I had been bumped back down to 10th so we put a fresh rear tyre in for the final few laps. On my last lap I really went for it. I had personal best splits in the first 3 sectors but then in the final sector I ran into a group of about 6 'lookers', as Dieter calls them. (These are riders who are looking around and waiting for a faster rider to come by and get on the back of to try and improve their time) The group of 'lookers' saw the, factory Honda, Japanese rider Aoyama approaching, who was just ahead of me and they all pulled straight out into my way in order to get themselves a tow. I passed one in the hairpin and had to go quite tight to pass another into the final left, the front tucked and then came back, but it was too late, the lap had been completely screwed up. I was really annoyed when I got back to the pit box because I had been bumped back to the 4th row & 13th position and I knew that if I could've finished that lap without any 'lookers' in the way, it would have been a 1.36 good enough for the 3rd row. Afterwards, when I looked at the time sheets, my ideal lap with my 4 best sectors was a 1.36.688 which would have put me on pole last year and was also the lap record time from 2003!
Despite the disappointment of qualifying, I was still confident for the race and knew that we had a good setting. In morning warm-up I ran in new pistons as usual. Warm-up went ok, I didn't take any unnecessary risks, we ran with a full fuel tank to get a feeling for the race as it adds 15 kilos to the bike and sometimes can cause problems.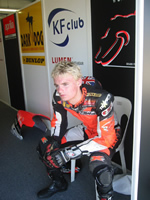 I was pretty nervous before the race, so I sat in the team box and listened to some music. I had my strategy planned out for the first corner. I wanted to be on a decent line and off the dirty parts of the track on the first corner entry, but in the middle of the corner, I wanted to be tight to the kerb to make sure I didn't get pushed out to the outside and try and reduce the risk of getting collected in a pile up.
I got a good start and had made up 1 or 2 places by the first corner. I was initially where I had planned to be on the track but I did have to go a little bit wide in the first part of the corner because Toni Elias was on the inside of me but I was still in a good position to set myself up for maybe passing some more people on the next part of the circuit. Just as I started to crack on the gas I felt something hitting my bike down by my rear wheel somewhere. I hung onto my bike for a while but eventually what ever was hitting me managed to get under my bike and send me into a bit of a tank slapper, throwing me way off into the gravel pit. I didn't really have any idea what had happened but had a fair idea somebody had crashed into me and when I got up I saw two other riders on the ground, Eric Bataille and Alex Baldolini. If you get involved in a first lap pile up and see Eric Bataille on the deck with you, you can be 90% sure he caused it. There's been plenty of times where I've seen him go charging into corners stupidly on the first lap and take out a bunch of other riders. I asked him just after the crash if he knew what had happened and I never got a straight answer from him but since I have seen the replay, it is obvious that he crashed by himself and then collected me with him. Dieter went up to the race office and was played the crash from a more clear camera angle and he said that Bataille obviously went in too fast, crashed, his bike spun around and hit me off then Baldolini had no where to go but ride into his bike. (As Bataille has a track record of this sort of thing Dieter "officially" complained to the Race Director.) I was luckily not too hurt. I had banged my head and bruised both my knees and arms.
So it was a very disappointing end to what was generally a good weekend. There was a group from 5th to 10th with De Angelis, Debon, Nieto, Elias and Rolfo in which I'm sure I could have mixed with. I was gutted for myself and also for my mechanics because everybody was up for and expecting a good result to start the season with.
Anyway, I have 15 more chances to prove myself and I'm ready to square up with Bataille in Jerez as he is telling the French press that I hit him from behind which I don't take to too kindly to!
I now get ready to go to Jerez where hopefully we will pick up from where we left off and score my first points of the season.
Chaz#57
ps. A few weeks ago I was asked, by a motorcycling magazine, to tell my best hire car story and I didn't really have any decent ones but now I certainly have one! When we left the circuit and travelled back to Johannesburg airport ready to go home, my team mate Johan was driving, my dad was in the passenger seat and me and Johan's girlfriend were in the back. We stopped at a services to get something to eat and spent our last South African "Rand" on some drinks and sweets for the journey. It then occurred to us as we headed for Jo'burg that we needed some money for the tolls and we had about what equated to 50p between us in lots of shrapnel (a lot of small change). A toll was approaching but we thought we'd be pretty safe as we had credit cards which toll booths usually take. As we pulled up Johan handed the toll booth lady his card which she swiped and then quickly handed back as it wouldn't work. My dad got his two cards out which also wouldn't work. So we were stuck, horns beeping us from 50 metres behind. After a bit of thinking the booth lady calls her supervisor and they agree to let us through if we gave them a £5 note. The toll was 29 Rand and a £5 note is worth 55 Rand. Johan tried to get a 10 Rand note back off them as we had already given them much more than the toll was worth and we would then have this 10 and my dads 5 Rand which would see us through the next toll. They wouldn't give us it back though. So we drove about 10-15 miles down the road and came to the next toll. As we rolled up we saw that this toll was only 9 Rand (about 80p) and we had 5 Rand, so we hoped we'd get an understanding booth operator. It was quite the opposite. We tried everything to get him to let us off the 4 Rand. We offered them £5 again but they wouldn't have it. My dad even went as far to offer him his can of coke and his chocolate bar!! But he still wasn't buying it. So we sat there bantering once again with a 100m tail back and some pretty mad drivers pounding their horns! Johan pleaded but he still wouldn't listen but finally, because of all the irate drivers behind us, he agreed to let us through if we pulled up in the lay-by just after the tolls and then sorted something out from there. So he reluctantly opened the gate and as I was expecting Johan to start veering left into the lay-by he started laughing, murmured '**** you' and then floored it all the way to the airport doors! We were making jokes all the way to the airport that there would be 'WANTED' posters all around the airport with our faces on and we better start getting some disguise hats out from the boot, but I think everyone was a bit worried because they may have traced the registration number back to the hire car company and then to our name!
I am pleased to say we weren't arrested at the airport and hopefully we don't get called back to South Africa to pay our 35p.