Chaz Checks In... Donington Park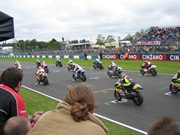 After the German GP I had a pretty hectic week in the build up to the British GP at Donington. We flew home from Germany on the Monday afternoon and got back home on Monday evening. At home on Tuesday I did my packing for Donington because early on Wednesday morning I was driving to London to do a pre- British GP press conference and then going straight from there to Donington. The press conference was held at Leicester Square. It went quite well and Shakey Byrne, Hodgson and Rossi were also there. After paying a rip-off £28 for 6 hours parking I left London at about 6pm and drove to Donington arriving at about 9pm. I made sure to get some good sleep that night as I was still overdue from Germany. I had a busy day on Thursday, writing out my data from my fastest lap last year and getting my gear ready, then had a few interviews, the Annual Super Anorak Quiz and then the Riders For Health Auction. Originally I wasn't in the line up for the Anorak Quiz but when the 'TV team only had 3 out of 4 people I got dragged into it. I was teamed up with Julian Ryder from Eurosport and Suzy Perry and Steve Parish and we were against IRTA for what was the semi final. I'm glad to say we had quite a close battle and in the end we just clinched it by a point or two so we were then due to return for the final later that afternoon. When we returned for the Final the team line up had now changed again and our team was down to two men, me and Jules. So as we were against the MCN team, Mike Scott decided to jump ship and joined our team so we had 3 against 3.(Also we weren't complaining because Mike Scott is a racing encyclopaedia!!) Some of the questions I didn't have the slightest idea about because they were pre- 90's GP's but the later ones since about 95' onwards I wasn't too bad at and answered a few correctly. In the end we walked away with the 'Anorak' title much to MCN's disappointment as they have been beaten in the final for the last few years running. After the quiz it was time for the auction and I took along 3 signed Chaz Davies t-shirts which all went for £100 each and a signed print of a painting that we had done earlier in the year which went for £225 so I was quite pleased with that. Just before I went up on stage, Rossi went up before me and proved a bit of a hard act to follow!! He had one of his own brand hats on when he went on the stage which he signed and this sold for £1000 and he had other signed paintings which went for £1500!!! I was quite surprised after The Day Of Champions about the amount of people who were supporting me. I had quite a lot of people well wishing which was nice because I didn't think many people knew of me. I also did two "signings" at the Scalextric roadshow situated in the infield. Scalextric were launching there new Moto GP game & asked me to come and sign a few autographs. Again I was surprised how many people were queued just to get MY autograph! Weird!
On Friday morning it didn't take me to long before I started feeling comfortable with the circuit again. Since last year the circuit had been re-surfaced which at first was a bit strange because I am used to the many bumps around places like Mcleans corner and the big bump on the exit of the Foggys Esses. They had done a good job with the new surface as it was pretty smooth and the grip level didn't seem too bad either. Within 6 laps, of the first practice session, I had done a 1.36.7, only a second off my best time all weekend last year and by the end of the session had done a 1.34.7, 1 second faster than last year and this put me in 9th position. For first qualifying in the afternoon we made the front softer to help with some chattering I was getting through the first corner, Redgate and down the bottom of the hill at the Old Hairpin. The change didn't improve the bike at all and the front suspension was now a bit too soft for the heavy braking in the last 3 corners so we lost quite a bit of time changing the bike back to how it was in the morning. The wind started to blow quite strong in the last half of the session and I was struggling to get the bike on the correct line going down the Craner Curves so we had to work towards improving this for Saturday. I did a 1.34.8 and finished the session in 12th.
On Saturday morning I ran in new pistons and quite quickly noticed a slightly better feeling from the changes we had made since the day before. We were slowly going in the right direction to improve the bike and I felt that we only needed to go slightly further and the bike would give me the feeling that I wanted. I did a 1.34.5 and was 12th once again. For the final qualifying session in the afternoon my chassis mechanic thought hard to come up with a setting and did a good job for the afternoons session. The chattering I was getting had more or less been fully ironed out and the front was now feeling planted and wasn't tucking. Also it was easier to be much more accurate to get the bike on the right line down through Craner and through the Old Hairpin. I did 8 laps at low 1.34's, between 1.34.0 and 1.34.3 and for the last two laps put on a new rear tyre. My final lap was quite good and I did a 1.33.9 even with a mistake at the hairpin that cost me a few tenths. I was 12th on the grid, equalling my best ever grid position and after, when I looked at the final time sheets, I knew that a couple of riders like Matsudo and possibly Nieto would struggle to keep up a good race pace because they had only stuck in 1 storming qualifying lap. I was feeling confident for Sunday, not over-confident but I knew I had a good shot at getting in the top ten possibly even the top 8. The bike was good and the tyres were lasting well so I couldn't see why I shouldn't get in the top ten. After my final qualifying a guy called Martin Raines came to see me. He is a guy who all the motorcycling world turn to for statistics of any description to do with Grand Prix's. He is an absolute mind of information & he told me that I had broken another record by becoming the fastest BRITISH 250cc rider to ever go round Donington Park! Jeremy McWilliams had previously held the title from his days on the factory 250cc Aprilia!
On Saturday night the rain came and rained on and off until about 12 in the afternoon. Morning Warm Up was wet and I again ran in new pistons for the first 5 laps. As it was a new surface nobody quite knew how much grip they had and how far they could go. I wasn't going to risk too much and felt comfortable going at the pace I was going, about 1-2 seconds off the pace but in the wet to make up time isn't so hard like it is in the dry.After mid-day the sky got a tint of blue in it and it got slightly warmer even though still quite cold. For the 125 race the circuit had fully dried up and it looked like it was going to stay dry for our race.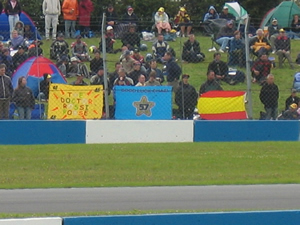 At the start of the race I got an initial good start and then got a bit too eager on the clutch, let it out a bit too far and the bike bogged down and went from 12th to 17th or 18th in 200 metres. For the first 2 laps I was struggling to pass riders who I shouldn't have been with. David De Gea was taking very strange lines and proving very difficult to pass even though he was doing 1.37's. On the second lap I could see riders like Guintoli, West and Battaini getting further and further away and Vincent and De Gea were still holding me up. They were going in on the brakes quite hard but then in the mid-corner more or less stopping the bike and I would then nearly hit them and have to pick up the bike and completely mess up the exit. At the end of the third lap I was getting quite impatient as I could see the group ahead getting even further away so I made quite a hard move to try and pass Vincent at the Melbourne loop and he came across the front of my bike and I was so close to hitting him. This really, really annoyed me so I went hard and quite tight into the final corner making sure that this move was going to stick, hit a bump which made the front bounce and lose contact with the road and the front tucked & I went down. I quickly ran over to the bike but the clutch lever had snapped and I later found out that the swing-arm was cracked making it impossible to remount. Words can't really describe how disappointed I was at the time but for sure I wasn't best pleased. Not just annoyed for myself but also for quite a few people who had come to watch me and also now looking at how the race panned out I'm pretty sure a top 8 was possible (I have been given the advice not to dwell!!). I think I owe an apology for kicking gravel which went towards the marshals post at the last corner, so, sorry to whoever was on that post, rage took over!! (doesn't happen very often). So now I've got to take the positives from generally quite a good weekend and come back after the Summer break just as strong if not stronger and get ready for a good second half of the season.
See you after the Summer!
Chaz#57!!