'Boy Racer'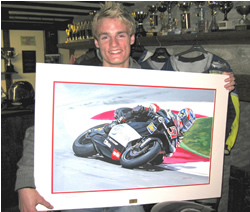 Chaz Davies Racing has recently commissioned an artist to paint a picture of Chaz 'in action' at the Sepang Grand Prix in 2003. From this painting 250 exclusive prints have now been produced. The prints are titled 'Boy Racer' and the dimensions are 18" x 27". Each print is individually numbered and personally signed by Chaz.
Prices
Signed: £50 + £3 p&p
Unsigned: £30 + £3 p&p
Contact us for further details at postmaster@chazdaviesracing.com.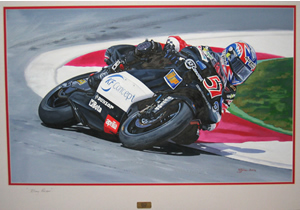 NB All money raised through the supporters club goes directly to help Chaz. Please remember that Chaz is an unpaid rider but does have to fund all his personal expenses! Finding personal sponsorship is still proving to be extremely difficult so the supporters club/print are the main fundraisers to help Chaz continue his GP career.